Louisiana Bar Journal
To stay abreast of news within our profession, the LSBA sends members important journals that are required reading for all lawyers. Members receive the Louisiana Bar Journal, a bimonthly magazine containing substantive law articles. The Recent Developments section is essential reading for every lawyer to learn of changes in laws. LSBA members also receive a subscription to Bar Briefs a bimonthly tabloid which features Association news.
The LSBA also archives the Louisiana Bar Journal online. Whether you are looking for a specific article or wish to get a copy of all Recent Developments for a particular year, you may query the publication database by month, year and/or keyword.
Read the Louisiana Bar Journal, Volume I, Number I, July 1953
.
Latest Louisiana Bar Journal Release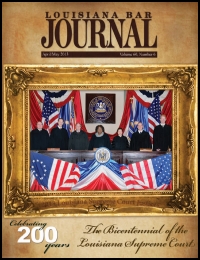 Louisiana Bar Journal - April/May 2013

Vol. 60 No. 6
Download Whole Publication
(11.04 MB)
---
President's Message
(440 KB)
Hearing Voices . . . Access to Justice
By John H. Musser IV
---
Featured Article
(455 KB)
Louisiana Supreme Court Marks 200th Anniversary
By Louisiana Supreme Court Associate Justice Greg G. Guidry
---
Featured Article
(721 KB)
The Supreme Court of Louisiana at 200
By Dr. Warren M. Billings
---
Featured Article
(638 KB)
History of the Louisiana Bar: Kingfish's Legacy?
By E. Phelps Gay
---
Featured Article
(357 KB)
Notes from the Law Library of Louisiana
By Miriam Childs
---
Featured Article
(575 KB)
Francois-Xavier Martin Revisited: Louisiana Views on Codification, Jurisprudence, Legal Education and Practice
By Prof. Olivier Moreteau
---
Featured Article
(595 KB)
Judicial Review in Louisiana: A Bicentennial Minute Entry
By Prof. Paul R. Baier and Georgia Chadwick
---
Featured Article
(527 KB)
The Louisiana Supreme Court and Civil Rights: A Fickle Courtship
By Chief Judge Ulysses Gene Thibodeaux, Louisiana 3rd Circuit
---
Featured Article
(666 KB)
Louisiana Supreme Court Celebrates 200th Anniversary in March 1 Ceremony
By Miriam Childs
---
Recent Developments
(2.35 MB)
---
Search Louisiana Bar Journal
For previous Louisiana Bar Journal issues select the month and year.
If you're looking for a particular article and don't know the release date then perform a keyword search on the Louisiana Bar Journal archive.